They say the only truly selfless act is giving your life for someone else. In Vietnam's Bình Sơn District, one marine made such a sacrifice. His name was Gary Wayne Martini, and this is his story.
The early life of Gary Wayne Martini
Gary Wayne Martini was born in Lexington, Virginia, on the 21st of September 1948. He gained an education in West Virginia, and then Portland, Oregon. At just 17 years of age, Martini enlisted in the United States Marine Corps in Portland. The Corps then sent him to complete his training in San Diego. Graduating in May that same year, they transferred Martini to the Marine Corps Base known as Camp Pendleton. Here, Martini trained with the 1st Battalion of the 2nd Infantry Training Regiment. In July 1966, Martini was transferred to North Carolina's Camp Lejeune, where they assigned him to Company F, 2nd Battalion, 8th Marines, 2nd Marine Division. Martini became a private first class in September that year. In December, it was off to Vietnam and war.
Gary Wayne Martini in Vietnam
Martini served as a rifleman in the Republic of Vietnam from late 1966 to April 1967. On the 21st of April, he went far beyond the call of duty during Operation Union in the Bình Sơn District of South Vietnam's Quang Ngai Province. The objective of Operation Union was to clear the PAVN and Vietcong forces from around the Marine Corps outpost atop a mountain. Company F, Martini's company, was the bait. They left the outpost for a nearby enemy-held village to draw them out. At seven in the morning, the company made contact, and a battle ensued.
Martini belonged to a platoon that assaulted the village over an open rice paddy. The enemy held a trench line on the far side of the paddy, and they welcomed the marines with mortar fire, grenades, and automatic weapons. In moments, 14 of Martini's comrades were dead, while a further 18 lay dying in the open. Martini, observing the carnage from a dike in the paddy field, knew he had to do something about those 18 men. Exposing himself to intense enemy fire, he lobbed grenade after grenade, filling several enemies with shrapnel.
After that, Martini crawled back to cover for a short while, then he got to his feet and rushed into the fire-swept paddy to drag one of his comrades back to safety, sustaining a serious but not fatal wound in the process. To go back again would be suicide. But Martini didn't care. He charged into the fray once again, coming within 20 meters of the enemy trench, and reached a second wounded comrade. As he arrived, Marine received a mortal wound. At this point, some of the other marines from Martini's platoon were trying to leave cover to assist him. Martini told them to stay back. With the last of his strength, Martini dragged his downed comrade to safety. He then succumbed to his wounds.
Casualties
All in all, the US Marines inflicted some 865 casualties on the PAVN and Vietcong in Operation Union. Thanks to the bravery and sacrifice of men like Gary Wayne Martini, they sustained just 110 marines killed by the 16th of May, by which date they had claimed victory.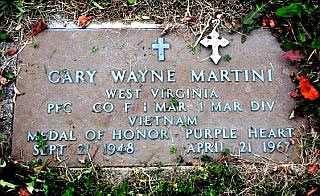 Remembering Gary Wayne Martini
For his actions, Martini received the Medal of Honor and the Purple Heart, among other military awards. The following is an excerpt from his Medal of Honor citation:
"Stouthearted and indomitable, Private Martini unhesitatingly yielded his own life to save two of his comrades and insure the safety of the remainder of his platoon. His outstanding courage, valiant fighting spirit and selfless devotion to duty reflected the highest credit upon himself, the Marine Corps, and the United States Naval Service. He gallantly gave his life for his country."
Gary Wayne Martini has since been honoured in a number of ways. A hall stands in his name at Marine Corps Recruit Depot San Diego, as well as in Camp Pendleton. His name endures on the Vietnam Veterans Memorial in Washington, D.C., and the Gary Wayne Martini Memorial Bridge in Lewisburg, West Virginia, was named after him too.